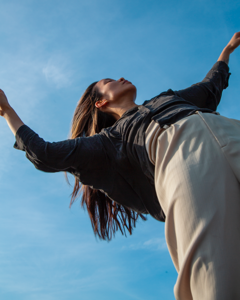 Dance Training – Thu Hang Pham
DansBlok organiseert wekelijke danstraining op donderdag voor professionele dansers in Leiden.
We organize weekly training for professional dancers on Thursdays.
3 november – Thu Hang Pham – Contemporary
Time: 09:30 – 11:00 uur 
Location: Kaserne Blau(!), Gooimeerlaan 25, Leiden
Price: €7,50 for a single class, €70,- for a 10-classes card*
*Go to Dance Training to buy a 10-Classes Card or book this class if you already have a Class Card.
We are in Kaserne Blau for this class: Gooimeerlaan 25, Leiden. Also, for this one time, we are doing class on FRIDAY instead of THURSDAY!
Thu Hang Pham is a freelance dancer, choreographer and teacher. She started her dance training at the Academy of Theatre and Dance in Amsterdam (ATD). After finishing her training in Amsterdam she moved to New York City (Peridance Capezio Center) and Israel (Kibbutz Contemporary Dance Company) to broaden her horizon. Her dance language focusses on flow, groundedness, sensuality and the connection between the physical and inner world. Important to her is to create and express from personal experiences and move beyond particular techniques and aesthetics to find freedom in movement and experience a sense of connectedness with others.
Book this class